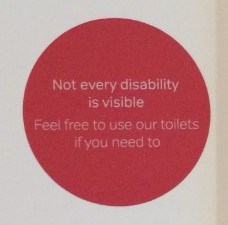 The new signage will be displayed on all of the accessible toilets in the seven Virgin money lounges on high streets across the UK, raising awareness that 'not every disability is visible'. 
A major anxiety for people living with Crohn's Disease or Ulcerative Colitis, is being refused toilet access or being confronted about why they are using a disabled facility. Whilst someone may appear to look 'okay' on the outside, they may be in a daily battle with a serious medical condition and urgently need to use accessible facilities.
The new signage is displayed in the seven Virgin Money lounges in Edinburgh, Glasgow, Manchester, Sheffield, Norwich, London Haymarket and London Eagle Place.
We have been campaigning to change accessible toilet signage across the UK to help raise awareness that not every disability is visible and to improve the quality of life for those with Crohn's and Colitis. 
So far we have had lots of success, with the UK's largest supermarkets all now adopting the new signage in over 2,500 stores nationwide. More recently the charity has focused its campaign on the travel industry, which has seen the new signage being displayed in airports, train stations and service stations all over the country, most notably in Gatwick and Heathrow Airports.
Inspiration for the not every disability is visible campaign is credited to the many people living with Crohn's or Colitis; notably 12-year-old Grace Warnock. Grace's Sign can be found in many national locations, including the Scottish Parliament and Edinburgh Airport.  
Read our latest news
Catch up on the latest news from Crohn's & Colitis UK