We know that resources developed through the Being Me with IBD study have helped to support young people. These information leaflets and their animation (above) are being used by young people with Crohn's or Colitis, their friends (pdf), and their teachers and lecturers. As well as in schools, colleges and universities, they are also recommended and used by health professionals in practice.
But, the Being Me with IBD team knew that they needed to create one more resource: an information leaflet for parents to help them support their child's friendships. Their challenge was to do this in the middle of a pandemic! Researchers Dr Ali Rouncefield-Swales and Prof Bernie Carter tell us how they did it.
---
What did the Being Me with IBD study involve?
The Being Me study explored how having Crohn's or Colitis influenced young people's friendships and whether it affected how lonely, connected or in control they feel. As part of the study young people completed a survey that looked at friendships, loneliness, anxiety, health, and sense of control over their lives. Some young people also took part in creative interviews about their experience of living with Crohn's or Colitis and how Crohn's or Colitis impacted their friendships.
Young people with higher levels of anxiety and depression were frequently older when diagnosed, experienced abdominal pain and had a lower sense of self-belief. Reports of mental health were also influenced by how embarrassed young people felt about their Crohn's or Colitis. The study also found that friends and good friendships provided strength and protection to young people but keeping friends was an extra challenge. Young people told us that:
Being connected to friends they trust is essential.
Keeping friends can take extra effort.
Making new friends is important.
Telling friends about their condition could be challenging. 
Did you include parents in the Being Me with IBD study?
Parents weren't included in our study but, as part of recruiting young people to the study, we had lots of informal conversations with parents. We then knew that we wanted to consult with parents about their own experiences and how they supported their child and their child's friendships. We worked closely with the research and social media team at Crohn's & Colitis UK to recruit parents of young people with Crohn's and Colitis and had a fantastic response to Twitter and Facebook posts.
Due to the pandemic, we had to work online. We ran four consultation sessions with parents using Zoom. These sessions were supported by Dr Rouncefield-Swales and a brilliant illustrator James from Mr Munro. Through the magic of screen sharing, James made and shared visual notes of the conversations.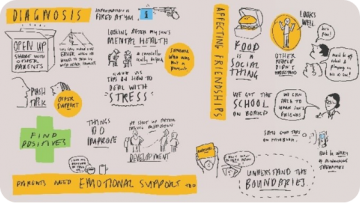 Parents were extremely generous in sharing their experiences and highlighted how, for some, these discussions had been the first time they had been asked about their experiences. We explored ideas for the information leaflet, including tips and ideas to support other parents and what parents need to know about how Crohn's or Colitis can impact friendships.
James' beautiful illustrations helped to focus the conversations and find common aspects in experiences. They formed the basis of the final illustrations used in the information leaflet and the parents were involved every step of the way in the development of the leaflet. 
So, there is a clear need for research that explores the role of parents in supporting children with Crohn's and Colitis and research about the broader impacts on parents and families. You can find out all about our past, ongoing and future research projects below.