Our Life in Lockdown survey gave us an insight into how patients feel services have been impacted by the pandemic - we received 7,666 responses from people with Crohn's and Colitis, which helped us to build this picture. Please note, you can view this blog with figures specific to each UK country by clicking the relevant link here: England, Scotland, Wales and Northern Ireland. 
Information about shielding
1 in 5 patients (20%) did not receive the correct shielding information.
Overall, just under half of patients (43%) said they got a shielding letter correctly, because they were in the high-risk group. However, 12% received a letter when they should not have and 8% did not get a letter but should have. There were some differences between the four nations.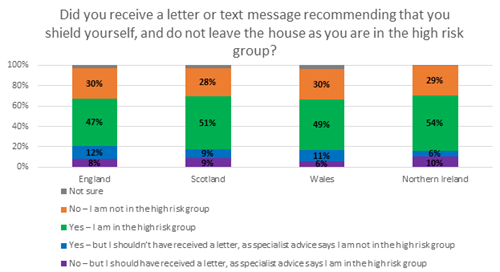 Crohn's & Colitis UK, working with the BSG and the IBD Registry, have supported IBD teams to identify risk categories for people with Crohn's and Colitis. Going forward the UK and devolved governments need to work more closely with IBD teams, professional organisations, and Crohn's & Colitis UK; to ensure that messages are clear, coordinated and appropriately targeted. These actions will prevent future unnecessary confusion, risk and anxiety.
Accessing information about coronavirus and their condition
Patients were asked about the ways they access information about how coronavirus relates to their condition, with the opportunity to select more than one source.
50% reported that they access information through hospital IBD teams.
17% reported that they access information from their GP.
82% of patients said they get their information from at least one Crohn's & Colitis UK resource.
Additionally:
69% of patients also reported that they want continued information from Crohn's & Colitis UK on how coronavirus relates to their condition.
4 in 5 patients (79%) thought that hospital IBD teams have understood and accommodated their needs during the coronavirus pandemic and 62% of people felt the same about their GP.
Accessing the IBD team
The findings suggest that IBD teams have kept up communication with patients during this difficult time.
4,889 patients (69%) reported needing to access their IBD team.
65% said they could reach their IBD team as usual.
9% found their IBD team more responsive during the pandemic.
However:
15% reported that they had to wait longer than usual to speak to an IBD specialist.
11% were unable to speak to an IBD specialist at all.
Access to tests, procedures and surgery
Almost half of patients (47%) had been accessing tests and procedures as usual. Overall, older people (aged 70+) found it harder to access tests and procedures compared with younger people.
147 patients said that they had planned surgery cancelled, with 89% not knowing when it would now take place.
Access to medication
6,777 of patients (93%) were on medication for their condition; of these, 89% were able to access their medication as usual.
Impact on patients
18% of patients reported that they had a flare because they couldn't access the health services they needed. There is also a wider impact on physical and mental health.
Patients who have had delays to starting treatments are more likely to report that they need mental health support. 
The changing face of appointments
When looking at appointments, patients in Northern Ireland reported that they had fewer delayed or cancelled appointments, with only 13% reporting this (23% England, 30% Scotland, 32% Wales). A quarter of patients (25%) had not needed an appointment during the coronavirus pandemic.
49% of patients who needed an appointment said they had been offered virtual appointments, and 58% of all patients who responded to the survey would like the choice of virtual or face-to-face appointments in the future.
Despite the fact that most people would like a choice, a quarter (24%) would prefer to have appointments in person where possible when the pandemic ends, and 15% would prefer having appointments remotely where possible when the pandemic ends. This highlights the importance of individual choice and the delivery of personalised care.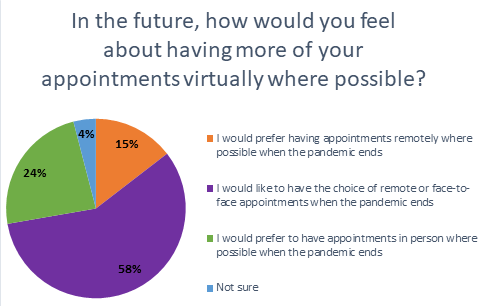 Virtual appointments need to be personalised, with good information to support preparation beforehand and potential barriers for certain people and groups in the community considered.
What next?
Patients value the information we provide, so continue to signpost patients to our online information and resources, such as our new Appointments Guide
Signpost patients to our Helpline services
Use these results to plan services, alongside the IBD Benchmarking Reports - for all services that submitted a service self-assessment, you can access all reports & new free text comments from the IBD Patient Survey via your Benchmarking Tool log-in. Contact IBD UK if you have any queries. 
Directly involve patients in decisions about changes to services to ensure these address their needs, including all sectors of the community. More information can be found in our Patient Engagement Toolkit
Work with Crohn's & Colitis UK to raise these issues with the NHS and politicians to ensure that everyone affected can receive the quality of care they need throughout the pandemic and beyond.