The key to a healthy balanced diet is to eat the right amount of food for how active you are. While snacking can be part of a healthy diet, it can also lead to exceeding your body's energy needs. Choosing snacks when you have Inflammatory Bowel Disease (IBD) can be challenging, but by planning ahead you can make the right choices.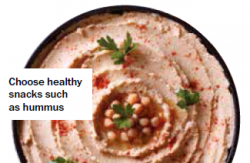 Excess calories can result in weight gain. If you are underweight, this can be a positive change. However, if you are a healthy weight or if you are overweight, you may want to avoid increasing your calorie intake.
Maintaining a healthy weight is important for general well-being and can improve recovery from flare-ups, while limiting the risk of infections and other illnesses. It is common for people with IBD to have weight fluctuations, representing the periods of remission and active disease. Patients can fall into the habit of eating high-fat, high-sugar snacks during remission. During a flare-up, these types of snack can help meet increased energy needs, but during remission they can lead to people consuming excess calories. Some people with IBD find certain foods aggravate their symptoms. The main triggers can be fibre and dairy products, so it is best to aim for low-fibre and low-lactose snacks.
It is understandable to want to eat less during a flare-up to ease symptoms, but it is also important to eat well. Snacking is often helpful, with small portions more easily tolerated than large meals. It is also common during a flare-up for your appetite to decline. This can be due to the symptoms of a flare-up caused by inflammation and the side-effects of medication.
It can be helpful to follow a 'little and often' approach by snacking on foods throughout the day. Some people find it easier during a flare-up to have six or seven light meals or snacks a day. Others will continue to eat three meals a day, complemented with a couple of small snacks.
It's important to plan snacks. Aim to eat every two to three hours during the day to improve your energy and protein intake. This should help repair inflamed tissues and maintain your weight, and can improve your response to treatment.
Food and IBD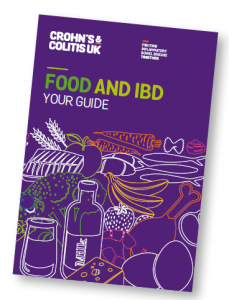 The world of food can be daunting when you have Inflammatory Bowel Disease (IBD). With this in mind, we have updated our booklet Food and IBD, to help you manage your condition -and enjoy the culinary world again.
Food and IBD: Your Guide includes advice on eating healthily, planning your dietary routine with the help of a food diary, nutritional treatment, and eating after surgery. It also focuses on special situations involving children with IBD and eating while pregnant.
---
This article was first published in our members' magazine, Connect. Delivered to your door three times a year, our high quality members' magazine will keep you up to date with our activities and campaigns, as well as the latest news on research and treatment of Inflammatory Bowel Disease. Find out more about the benefits of becoming a member and how you can join us.
---