---
I returned from holiday in the summer of 2019 and immediately fell ill. I could not stop using the toilet and would spend a whole evening not leaving the bathroom. I felt incredibly weak, I was sweating a lot and I had acute stomach pain. I put it down to picking up a travel sickness bug, but as the days went by things continued to worsen. I made appointments with my GP who ran various tests but with no results - no travel related illness etc.
They sent me home and nothing improved, so I went back and they did more tests - bloods and stool samples and still could not pinpoint anything. This was now over a week of suffering like this. I drove myself to an NHS walk in centre on the Saturday and they did not help me either. By the Monday I made an emergency appointment with my GP and requested they admit me to hospital. I was admitted to hospital later that day. 
---
In total I spent three weeks in hospital. I underwent more tests and they carried out a colonoscopy which diagnosed the Ulcerative Colitis. At that time, due to the amount of days I had been ill, my colon was heavily inflamed. I was put on steroids to try and improve things but they did not work. I was being treated with other medication but nothing seemed to be helping. I was in a very bad way. A team of surgeons visited me and advised me that if the medication the doctors were using on me did not start to work soon, they would advise the removal of my large colon and I would be fitted with a stoma bag.
This assessment was made on the Friday and I was booked into surgery on the Sunday. My stomach was marked up for the stoma.
During this week the doctors had increased the strength of the steroids and started me on a drug called Infliximab. They were hopeful this combination would start to reduce the colon inflammation. Amazingly, on the Saturday morning as they were running more tests on the inflammation level, they told me that they could see an improvement! My planned stoma operation was postponed and then cancelled. I was so relieved and incredibly emotional as I had been preparing myself for the operation and the reality of needing a stoma. My condition continued to improve and on the following Tuesday I was allowed home.
---
I still feel like I am learning to understand Ulcerative Colitis. The main symptoms I experience are:
Tiredness & fatigue. Even after a full nights sleep I feel tired during the day and find myself yawning.
Bloating in my stomach at times.
Fatigue in my body. My arms and legs often feel heavy and ache. 
I've not suffered that many flare ups since leaving hospital. I feel I'm perhaps more fortunate than other people. I have experienced flare ups but definitely none *touch wood* that have lasted more than a day.
I am still adapting to trigger foods, but some common ones do not seem to affect me. Green vegetables and salads for example do me no favours, which is unfortunate seeing how important they are to your diet. I find I need to push myself to do regular exercise due to the tiredness and fatigue. I do take quite a lot of medication, and I think this causes a lot of the tiredness and fatigue. I am taking Azathioprine every day as well as Mezavant. I also take various vitamins and a bi montly infusion of Infliximab. However, I have not been admitted to hospital with any flares since, so you have to weigh the pros against the cons.
---
With holding such a senior position in my career I have always worked long hours and taken very little if any breaks. I would also work when I got home on evenings and weekends after a long working week. I am learning to improve my work life balance and trying to manage my stress levels better. I don't work as many hours as I was a few years ago, and I am trying to exercise every week. I would have to admit though that I do suffer with stress and I have done for many years.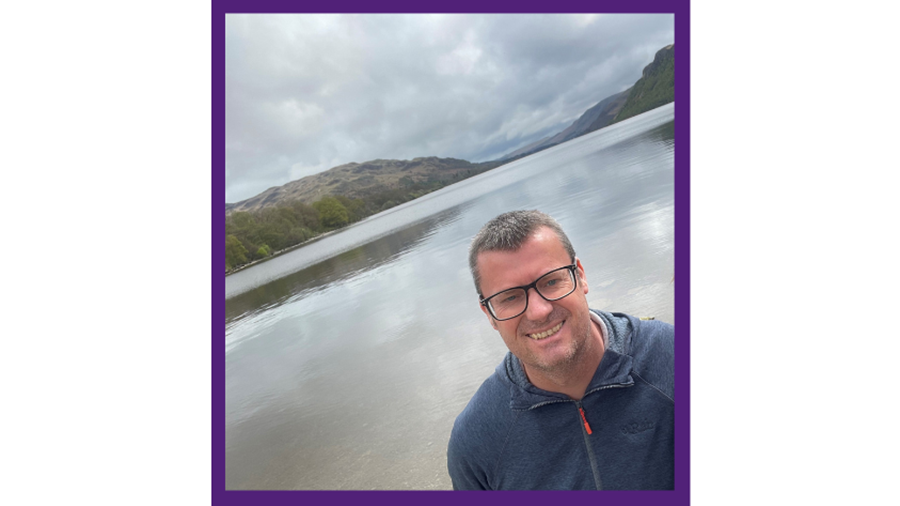 I was diagnosed four years ago so I still feel like I am adapting and learning to live with it, I know the medication has some side effects but I also appreciate that it helps me get on with my life, support my family and continue to work and hold down my employment. Ulcerative Colitis and Crohn's Disease can be debilitating conditions, but they don't define who you are or what you can achieve. The medication I am using helps me live my life normally and I feel lucky about that. It can be difficult on a regular basis for me personally, especially on a morning when I feel just as tired as when I went to bed, but I still feel fortunate with what I have around me and what I am able to do in my life.
---
Want to share your story?
We hear from people every day who rely on the Crohn's and Colitis community for help and support. Sharing your experience can be helpful and inspiring.